In March, I was fortunate enough to attend the Association of Legal Administrator's (ALA) Annual Attorney luncheon with Steven Au Yeung, our Principal Consultant for Professional Services firms, which included a keynote speech on leadership and teamwork by Mets legend Keith Hernandez. As Engagement Manager, one of my responsibilities is to strengthen our relationships with existing clients and increase Lloyd's understanding of our clients' businesses and operations. This event was the perfect opportunity to speak with clients outside of the office and connect with other firms in the legal field, while learning about leadership and teamwork "on the diamond" and in the workplace.
As a partner of the Association of Legal Administrator's New York City chapter, Lloyd has the opportunity to partake in a number of events throughout the year that typically feature educational lectures or demonstrations around business practices and tips for success. During the Attorney luncheon, Steven and I had the chance to catch up with some of our clients and other vendors, attorneys, and office administrators about taking a team approach in the office and at home to benefit yourself and "your team." The importance of each role in the organization and how they impact each other is always a theme at Lloyd and in our community (read our recent post about the different types of teams here).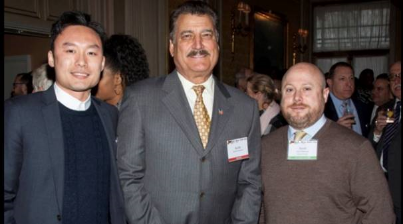 Steven, Keith, and myself at the luncheon.
Highlights from Keith's Keynote
Cardinals to Mets. Teamwork was a major aspect of Keith's success while playing for the St. Louis Cardinals, though he explained that his time winning the World Series with the Cardinals was far different from when he won later on with the Mets. The two team's had completely different rhythms and atmospheres. The Cardinals had veteran leadership, and a clear focus throughout the season. In comparison, the Mets had a young group of players who needed leadership and guidance. Keith found that his experience playing for the Cardinals and his entire baseball career up until that point allowed him to take a different role with the Mets, which involved being more of a leader.
Seinfeld to TV Commentator. I'm sure all of you Seinfeld fans remember Keith's infamous guest appearance on the show (here's a youtube search for those who don't catch the reruns every weeknight when you get home). This was a different step in his career that wasn't necessarily going to be a new direction for future opportunity, but ended up being a major part in preparing him for his new role as TV commentator for the New York Mets.
The messaging in Keith's presentation was clear – every role you play in your career is important for your growth, and the growth of your firm. The experience you have in your current job can help pave your way for new opportunities in leadership for yourself, and can also help you improve the quality of work from your team. Even temporary roles or projects (maybe not a guest appearance on a TV show, but perhaps a speaking engagement or project ownership) can create new opportunities for you to grow.
We're looking forward to many more opportunities in working with the ALA, and discovering new organizations to partner with so we can continue to learn about our clients' businesses.