CRN Names The Lloyd Group to Its 2021 MSP 500 List
New York, NY, February 16, 2021 – Lloyd Group, We're on IT!
Announced today that CRN®, a brand of The Channel Company, has named The Lloyd Group to its 2021 Managed Service Provider (MSP) 500 list in the Pioneer 250 category. The MSP Pioneer 250 recognizes companies with business models weighted toward managed services and largely focused on the SMB market. The list, released annually, recognizes the leading North American solution providers that have demonstrated innovative and forward-thinking approaches to managed services. These services help end users improve operational efficiencies an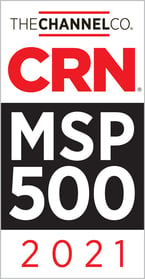 d navigate the ongoing complexities of IT solutions, while maximizing their return on IT investments.
With cutting-edge approaches to delivering managed services, MSPs have become an integral part of the success of businesses worldwide. They help empower organizations to leverage complex technologies, keeping a strict focus on their core business without straining their budgets. CRN's 2021 MSP 500 list identifies the market's key managed services players who are setting themselves apart with best-of-breed solutions that provide the business outcomes customers need.
"Effective MSPs enable companies to focus on their core objectives while improving the quality and reliability of their cloud computing capabilities," said Blaine Raddon, CEO of The Channel Company. "The solution providers on CRN's 2021 MSP 500 list deserve recognition for their innovative and forward-thinking approaches to managed services, and the ability to optimize operational efficiencies and systems to maximize return on investments."
Lloyd Group's approach to supporting small and mid-market businesses with IT support, consulting, security, and business growth strategy is what landed them on CRN's 2021 Managed Service Provider 500 list. Lloyd's promise to providing clear strategic direction that aligns with clients' corporate goals makes them stand out from the competition. Their ability to direct and support clients' technology investments enhances business productivity and maximizes return on investment. Their strategy around empathetic and timely response helps to provide clients with an exceptional client experience. Lloyd's low turnover rates, combined with their institutional knowledge, accounts for their long-term client relationships. Their consistent team approach towards client management is an indicator as to how they've built so many long-lasting relationships within their community.
"Our growing Lloyd Community continues to make me proud. The past year was not easy for anyone, but there is no team I'd rather have shared it with. I look forward to better times, better years, and continued growth together. Thank you to all the Lloydians who made our success possible."
– Adam Eiseman, CEO
The MSP 500 list will be featured in the February 2021 issue of CRN and online at www.CRN.com/msp500.
Follow Lloyd on Instagram, Twitter, LinkedIn, and Facebook
© 2021. Lloyd Group is a registered trademark of The Lloyd Group Inc. LLC. All rights reserved.
Contact:
Maria Sadek
The Lloyd Group
(212) 283-0374
About The Channel Company
The Channel Company enables breakthrough IT channel performance with our dominant media, engaging events, expert consulting and education, and innovative marketing services and platforms. As the channel catalyst, we connect and empower technology suppliers, solution providers and end users. Backed by more than 30 years of unequalled channel experience, we draw from our deep knowledge to envision innovative new solutions for ever-evolving challenges in the technology marketplace. www.thechannelcompany.com
Follow The Channel Company: Twitter, LinkedIn, and Facebook.
© 2021. CRN is a registered trademark of The Channel Company, LLC. All rights reserved.
The Channel Company Contact:
Jennifer Hogan
The Channel Company