Once again, Lloyd Group took part in the LegalTech exhibition of "LegalWeek, The Experience" at the New York Hilton Midtown from January 31st – February 2nd.
LegalTech is an annual trade show that brings solution providers and legal professionals together to discuss the latest trends in law, business, and technology. This annual week-long event allows for firms to stay up to date in this progressive society and to network with other legal professionals.
Lloyd Community Participation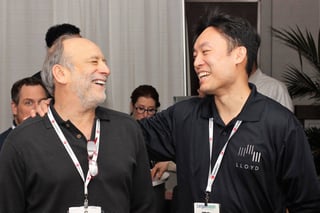 Jeffrey Zink of 4th Bin with Steven Au Yeung of Lloyd
This year's show was special for Lloyd as we had the opportunity to welcome three partners to share in the experience. Votacall, a cloud based voice and business communications solution provider, and 4th Bin, e-waste recycling and destruction services, joined us at our booth during the three-day exhibit. With over 300 exhibitors and 10,000 guests in attendance this was the perfect place for all to promote our services, network with potential clients, and visit with existing ones. We were so happy to see so many familiar faces at our booth!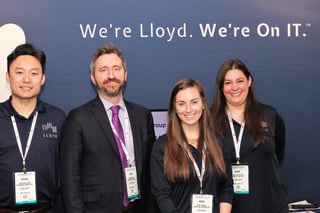 Steven Au Yeung, Brian David, Mary Babiarz,
and Dawn Stancavage from Lloyd at Legaltech
iLand, a leading cloud storage provider, also partnered with us at our cocktail party event which took place on Wednesday, February 1st at the Wayfarer. The party was a perfect opportunity to bring together our existing law firm clients, some who have been part of the Lloyd community for many years, and our internal team for networking and comradery. It was a great night and we look forward to continuing our involvement in these types of events with the legal community.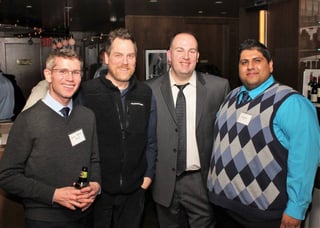 Curtis Johnson (iLand), Dan Nicklin (Votacall), Jon Lyons (KDV), and Zee Humayun (iLand)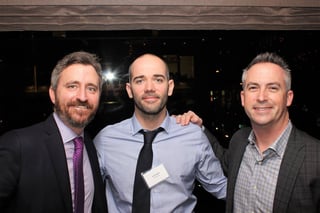 Brian David and Justin Byrne of Lloyd, with Michael Kaufman of Kaufman Organization
Trends
With different businesses ranging from case managers to computer services, Lloyd was just one of a few hundred companies showcasing their solutions and services. In our exploration of the exhibits and in speaking with attendees, the top trends seemed to be a heavy focus on e-discovery, and cloud based file and case management applications with security.
Security was Lloyd's main message this year as well. When speaking to attendees, our team discussed strategies for looking at security based on the entire security framework, rather than in a piece by piece approach. Below are some of the points we cover:
Identify and build a strong foundation by having proper documentation and policies in place

Protect your business with a strong network implementation, including access control, awareness training, antivirus, web and spam filtering, URL defense, and 2 factor authentication

Detect vulnerabilities with penetration tests and vulnerability scans

Respond to attacks by utilizing a knowledgeable and responsive IT team

Recover after an attack with appropriate backups and disaster recovery systems
Overall, Legaltech was a great place for our community to get together and discuss advancing technologies. A very special thank you to our partners and clients for joining Lloyd and making this year's show a big success!