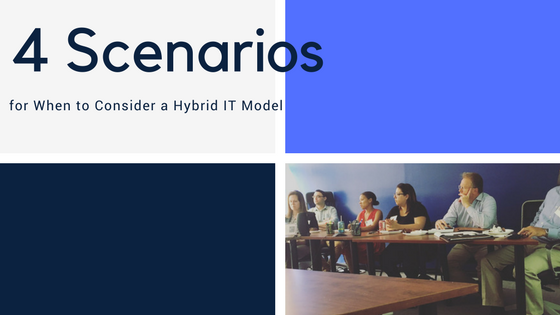 IT needs aren't the same as they use to be. To be fair, IT usage isn't the same either. When Lloyd first opened its doors in 1995 we were a break-fix shop, as were most outsourced IT organizations. Back then, individuals spent more time on phones, traveling, and using paper, and much less time on any type of electronic device. Flash forward to today, and the roles are completely reversed. It's very difficult to find an organization where every employee isn't equipped with a computer of their own, not to mention the travel laptops, smartphones, tablets, etc. The number of devices and connections to those devices have drastically increased over the years, and the IT Governance and Management needed for the network to support them has changed with it.
With this development, the role of IT Services has changed as well. Where you would have had one person managing all things computer related, you now have a team filtering through service requests. Where one individual could master the few applications and types of infrastructure implemented on a network, you now have many individuals certified in specific areas, such as security, Microsoft, Citrix, networking, etc. This makes it increasingly difficult for a firm to employ the resources necessary to manage their IT network, and just as difficult for an IT Administrator to tackle everything that comes with this industry while maintaining a positive work/life balance. So how is it done? Why, through a hybrid IT management approach, of course.
Utilizing a managed service provider to handle specific areas of IT can help Network Administrators focus on IT strategy or vice versa. We listed a few scenarios below where an organization may consider a hybrid IT model.
You have the IT Governance down, but need help with IT Management. It's not uncommon for a midsize firm to hire CTOs or IT Managers to plan the processes and strategy and work with a service provider to focus on the management and delivery. This way the firm can utilize a Service Desk with a team of trained analysts to work directly with employees. In this scenario, it's important to keep the lines of communication open; the two firms must work together to identify any trends in requests and coordinate with each other when changes to the network are made.
You are comfortable with handling the "how", but need help with the "what." Sometimes firms will hire an intern or junior level analyst to funnel all service requests but want to involve an outside party to create and govern the overall strategy. Networkwide issues that require a highly trained analyst could be escalated to the managed service provider, and their consultants would become part of the firm's IT Steering Committee. The MSP develops a living roadmap for the firm's technology and works with the decision makers to determine the best investments to make in IT.
You have a lot of changes to make on your network but not the hands to do it. Many times, smaller organizations will have one person who is fully involved with both the IT Governance and Management but needs physical hands or additional higher-level analysts to help with new implementations and changes to the environment. Many MSPs have Project Managers and teams who can handle everything from a network multi-function printer to a complete network overhaul.
You don't know what you need but could use some help figuring that out. In some rare circumstances – though we've seen it more frequently lately – a firm will already be working with an MSP or have a full team handling strategy and tactics, but it's been some time since they've looked at the IT environment and want an outsider's perspective. In this industry, as things are constantly evolving and standards are rising, it's easy to get behind or feel inundated with change. Bringing in a third party to complete a holistic analysis of your network can help refocus your attention to those items that need your immediate attention.
While every situation is perfectly different, the overall strategy behind a hybrid IT model remains the same: provide an extension to the internal IT team, so those employees can focus on what they do best. Whether it's a CTO focusing on strategy or a Level 1 and 2 Service Desk looking for an escalation point, working with a managed service provider to cover those additional areas can save the organization (and the IT staff!) time and money.
Lloyd Group is an IT Services firm providing full and hybrid IT Governance and Management to over 130 clients in the New York City, Philadelphia, and Princeton areas, as well as to organizations with presence across the U.S.